Using Navigation View to Create a Web
The first step in creating a web is to organize your pages. Click on the Navigatio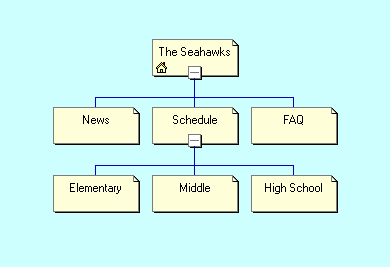 n View button. If your folder list isn't already open, it will open now. Drag the web pages you want into the navigation window beginning with the homepage. You can place pages on the same level as the homepage or below it. Navigation links (in blue) will show you how pages are linked.
Most web sites have a homepage that serves as a front door to the rest of the pages. This page includes the major topic areas to be covered in the web site. Each topic will probably then have its own page that might link to other subsidiary pages concerned with that topic.
The graphic shows a sample web. The homepage is marked with the icon of a house. It has three major links (News, Schedule, FAQ). The Schedule page has three links of its own (Elementary, Middle, and High School.) So, the homepage is the parent page of news, schedule, and FAQ, and Schedule is the parent page of elementary, middle, and high school. The pages below a parent page are known as child pages.
[ Home ] [ Up ] [ Navigation View ] [ Shared Borders ] [ Navigation Bars ] [ Hyperlinks View ]